The 3D Team Trains at Universal Orlando Resort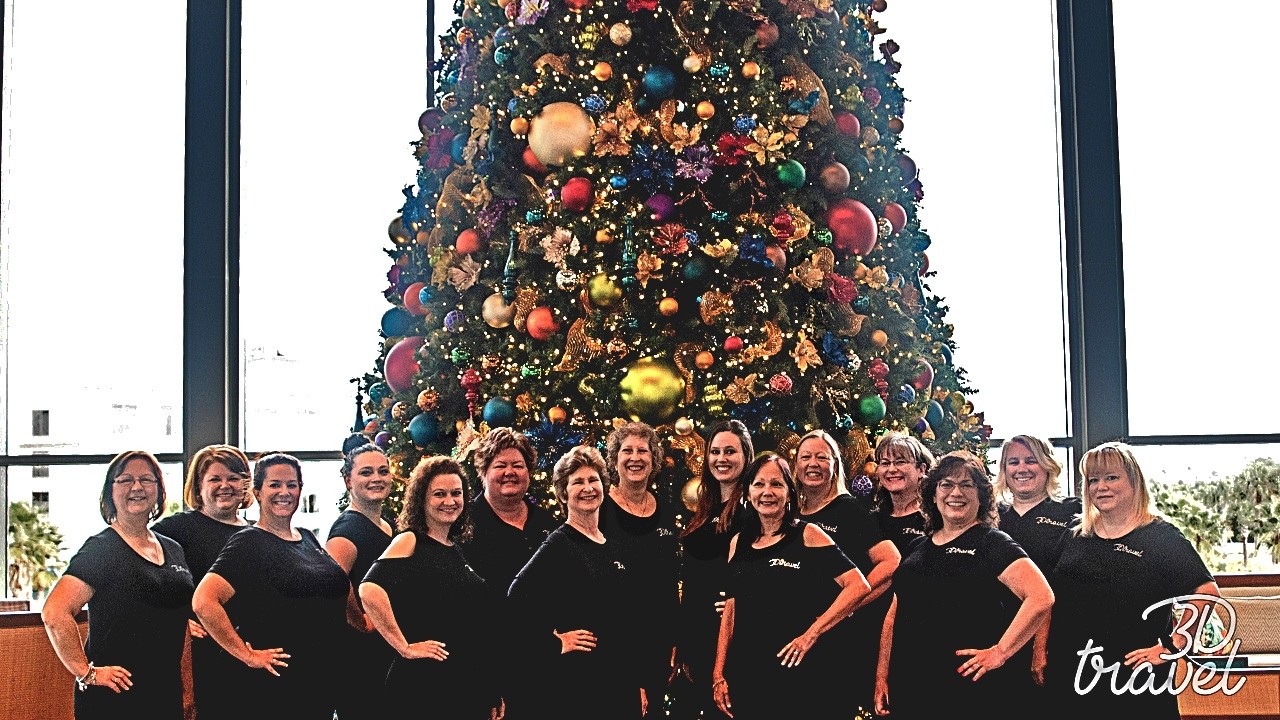 Universal Orlando snuck up on our team a few years ago, and quickly became one of our favorite places to visit. We couldn't resist an opportunity to train, learn and immerse ourselves in the holiday spirit as only WE can!
​
It's the end of 2018! We'd already visited California and stayed at Disneyland. We'd sailed aboard a Disney Cruise. Finally, it was time to wrap up our year with some serious fun in Florida.
Our home base was Loews Sapphire Falls Resort, located inside Universal Orlando Resort. We grabbed a suite and camped out for two days, laughing and learning. Less than half our team was with us, but we were still a large group & we even had a few new agents with us. Of course, that meant we needed to start with some games that ensured we totally lost our dignity together. We broke into teams and stuffed balloons up each other's shirts. Isn't that what everyone does at professional get-togethers?

---
We spent the rest of the evening eating, eating, and then when we were hungry again, eating some more! Room service pizza at Sapphire Falls was surprisingly yummy. I was able to debut our new Company Culture Class, where we laughed, cried, and bonded as a team. Finally, we did some challenging team building exercises. If you really want to know what it's like on the *inside* of all this crazy-fun you'll have to Join Our Team to find out. Spoiler Alert: It's AWESOME.
We were up early the next morning to be led by our Universal tour guide, Lindsey. She's been a VIP Tour Guide with Universal & is so much fun! We visited multiple resorts and rooms in person - an absolute necessity when we're planning vacations for our clients. Our tour included my first look at Aventura, one of the best values anywhere in Orlando, with some of the coolest technological features. Ask your agent for more information.
After finishing up with our tours and time with Lindsey, we moved back into our suite for fully immersive Universal training. By the time we finished, ALL our agents were #ReadyForUniversal!
We spent the evening with our traveling families and took over a whole room at Toothsome Chocolate Emporium.

And yes, I got to eat Chocolate Bread! I could plan a whole trip around that bread...
We had one last intensive day of training in our suite, before the team started touring the parks. As always, I was incredibly impressed by my team. We laughed a lot, cried a little, and mostly we learned. We learned about each other and the high standards, ideals and history of 3D Travel. We learned new ways to make magic for our clients. We learned (again) that it is always better, when we do it TOGETHER.

I wouldn't trade this team for anything in the world. I can't wait to do it all again in 2019!
By accepting you will be accessing a service provided by a third-party external to https://3dtravelcompany.com/