An Inside Look at all things 3D Travel
From the viewpoint of owner, Carol-Beth Scott
Touring the Dining Room & Kitchen at the Flying Fish l Disney's Boardwalk Resort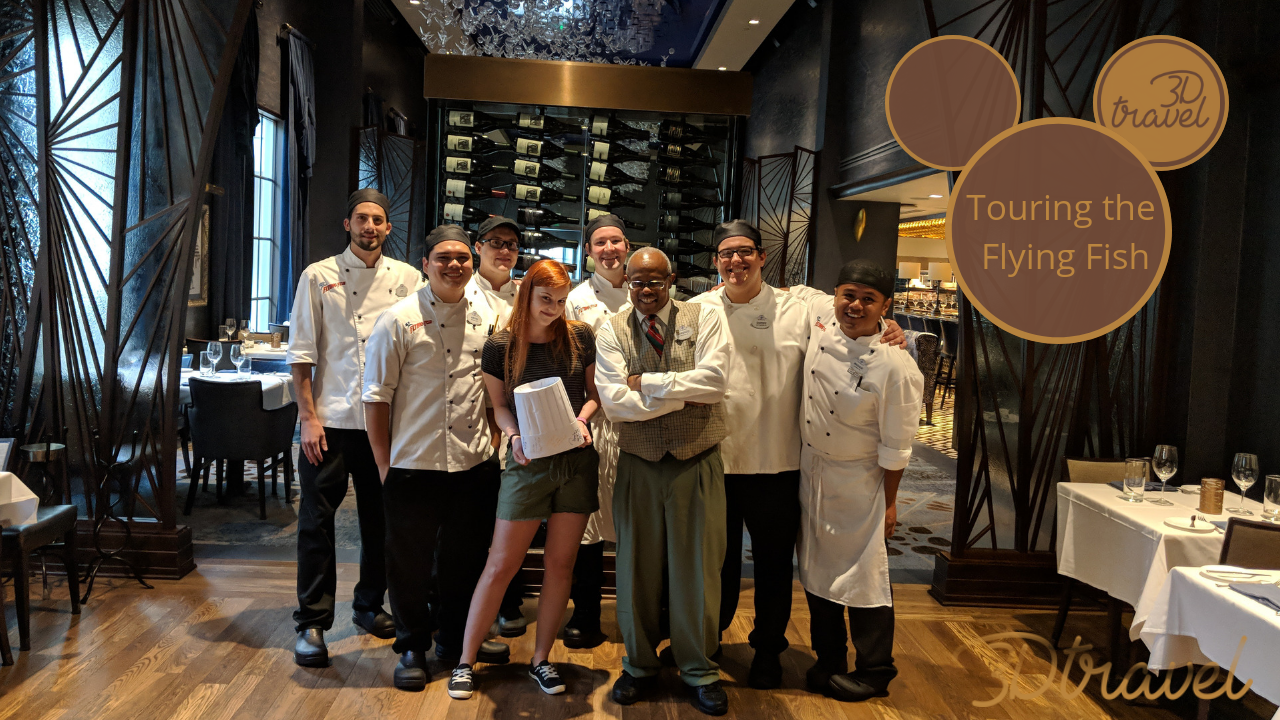 ​Recently, we had a Magical Moment we'd never expected, when we received an invitation to tour the kitchens & dining room of the Flying Fish!
---
Recently, Hannah & I spent a week at Disney's Boardwalk Resort, while I attended the Disney Institute's class for Leadership Excellence. On our last morning, a precious cast member named Lorenzo was chatting with me about the classes I'd been attending & I told him about a salsa cook-off I'd participated in (and lost - HA!) the day before.
Whenever a commercial kitchen is mentioned, Hannah's eyes light up. She LOVES kitchens. Of course, this cast member noticed and then he lit up as she told him about her magical moment aboard a Disney cruise, many years ago. She'd been invited to tour the kitchens by her beloved Richard, a headwaiter who captured her heart many sailings before that. Hannah was overwhelmed by his genorisity and loved every second of that tour. As soon as Lorenzo saw and heard her excitement, he jetted off to make some magic of his own.
By the time we finished breakfast that morning, we had an appointment to tour the kitchens at the Flying Fish. Of course, we were excited! I have to tell you, the experience exceeded our expectations in every way, and we expected magic, so that is saying a LOT!
The Dining Room
If you haven't been in the dining room of the Flying Fish, you might be surprised at the elegance you'll experience. It is in no way intimidating, but in every way relaxing. I love the new colors they used in the remodel. They're shades of blue & I actually feel myself relaxing when I dine there. It wasn't until my second meal that I noticed the hand blown flying fish and sculpted bubbles overhead. My photo makes it look like a long and narrow dining area, but while it is long, it is not narrow. There are some Disney restaurants where I feel a bit packed in, but this isn't one of them.
The Wine
While I've never developed a taste for wine myself - and I tried during a wine tour in Tuscany, so I'm truly a lost cause - I have been paying attention to the excitement over Wine Bar George in Disney Springs, where a master sommelier chooses their menu. If you are someone who enjoys wine, you'll be excited to know the same sommelier chooses many selections for those who are dining at the Flying Fish
The Private Dining Room
​Tucked in the back left corner is a peaceful, beautiful dining room you can arrange for your group ahead of time. I immediately imagined my beloved travel team in that room. I always miss my girls when I travel without them!
After seeing the beautiful dining room, we began our private tour of the kitchens. Every single cast member stopped and not only spoke to us, they spoke at length. We learned the entire process of cooking the glace, for example. We saw the stock pot & learned all about the meals prepared prior to the elements needed for the stock, then we actually watched the stock pot bubble and smell ah-ma-zing while we learned about & then saw the glace in the walk-in refrigerator. It takes nearly a week to make just that one particular sauce happen.
Fish were being prepared in the back kitchens, but it didn't smell like fish back there - or like cleaner. It just IS clean.
We also saw the crab cakes being made for that very day's food service. As I walked by the bowl holding the spices, I grew visibly excited & our host laughed with me. To see the time and care that goes into each recipe - well, it makes it that much more special when you have the privilege of actually dining there.
We learned about how they have one of only three wood burning grills on property. We walked each section of the line and stood in the spots they work in, experiencing and hearing about each part of their jobs. We met interns and chefs, line cooks and the guy who does ALL the vegetable, every night. I'm not sure what his title is, but I know he was in there before noon, preparing vegetables to cook that night and he was miraculous to watch.
I've enjoyed the privilege of spending time with hundreds of cast members over the years, and I can tell you with full confidence, these gentlemen went above and beyond in their time, attention, care and consideration of Hannah & I.
When our tour had (sadly) wrapped up, the entire staff in the kitchen came together for a photo. They asked us where we wanted to take it and knowing they knew their restaurant better than I ever could, I bounced the question back to them. There was an immediate, animated discussion, then some of them rearranged the restaurant seating to get exactly what they envisioned. It touched my heart, they cared so much.
In the meantime, Lorenzo was circling the room with souvenir chef hats, making sure every single Cast Member signed twice - one for me & one for Hannah. I teared up again as I wrote this, thinking about that. Talk about above & beyond!
​We travel frequently, visiting Disney Parks and sailing aboard their ships, mulitple times a year. We never expect these types of moments and when we receive an invitation and special time with Cast Members who care, we are always touched, whether they're doing something for us or we simply witness them interact with other guests.
Gordo (or Gordon, as Lorenzo called him) has the "2nd best hugs at Disney's Hollywood Studios" - but Hannah believes he has the BEST hugs at Disney's Boardwalk Resort. As our tour guide, he made us feel wanted and cared for, guided us through with as much excitement as he must have had on his very first day.
What a treasured and timeless experience! Now, I'd love to know, have you had any magical moments?
---
By accepting you will be accessing a service provided by a third-party external to https://3dtravelcompany.com/