An Inside Look at all things 3D Travel
From the viewpoint of owner, Carol-Beth Scott
The chocolate steampunk experience of Toothsome Chocolate Emporium l #3DEpicGirlsTrip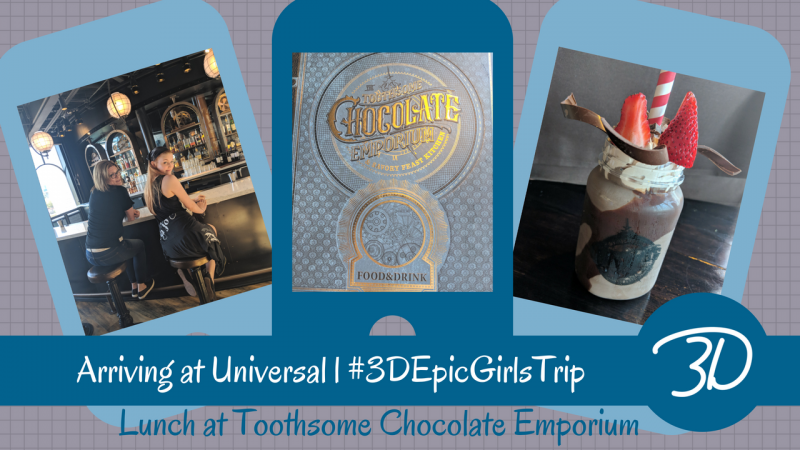 ​We'd driven through 5 states, sailed aboard a Disney Cruise, but it was finally time to go to our favorite restaurant at Universal Orlando Resort. We were headed to Toothsome Chocolate Emporium!
​Ever since Toothsome opened, we've been making this restaurant a priority for every visit. If you're considering Toothsome during your next trip to Universal Orlando Resort, I have two words for you.
CHOCOLATE BREAD!
It's all I need to make the trip worth it to me. Toothsome doesn't take reservations, so you're guaranteed a wait during busy times. We often travel in large groups, which makes it take even longer. BUT CHOCOLATE BREAD! It makes everything worth it.
And truthfully, we've never waited that long, even during the busy season. Or perhaps, it's that we were enjoytng the shop and the chocolates, the characters wandering through and the anticipation of the incredible desserts. Nope. Wait. I know why it doesn't feel very long. It's the hope.....the anticipation.....the pure joy of what I knew was coming soon. It was CHOCOLATE BREAD!
Why are there no photos of this delicousness? Truthfully, it doesn't photograph that well being shoved into my mouth. Go figure?
---
​Back to our trip!
We met our friend Amy, who works at Universal, and got started as quickly as possible! Yes. I had chocolate bread. I ate some and took the rest back with me, which I warmed up in my room and slathered with the yummy butter they include as part of the ultimate indulgence.
My mouth is watering right now. I want to go back! Also, I'm easily distracted by chocolate bread. Sorry!
Hannah ordered gluten free yumminess - she started with a simple salad so she could have room for the new sundae that was gluten free. This was the first time they gave her that option & she's no dummy. She ordered it. "It was delicious & super rich! I couldn't finish it, but I wanted to because it was soooo yummy!" She's tried many things there & there all filling. Chocolate was her single minded goal, that day.
I've never made it to dessert. Guess why! Yep. Chocolate Bread.
We had the best time looking over the extensive menu with so many options for our two very special diets. We always have something new to try. We sat upstairs overlooking part of Citywalk, just soaking in the atmosphere & ocassionally chatting with the two steampunk characters who came by. They love to share the backstory & always stay in character. It's super fun.
---
​Intrigued & Ready to learn more about Toothsome? You can!
Hannah I chatted away as we walked through the shop at Universal's Toothsome Chocolate Emporium, last month during our trip. You can watch our tour on our Facebook Page, then keep an eye out for future live & fun opportunities on there by choosing to like & follow us. You KNOW you want to!
Comment for this post has been locked by admin.
By accepting you will be accessing a service provided by a third-party external to https://3dtravelcompany.com/