An Inside Look at all things 3D Travel
From the viewpoint of owner, Carol-Beth Scott
Trip Report - On Our Way! #3DEpicGirlsTrip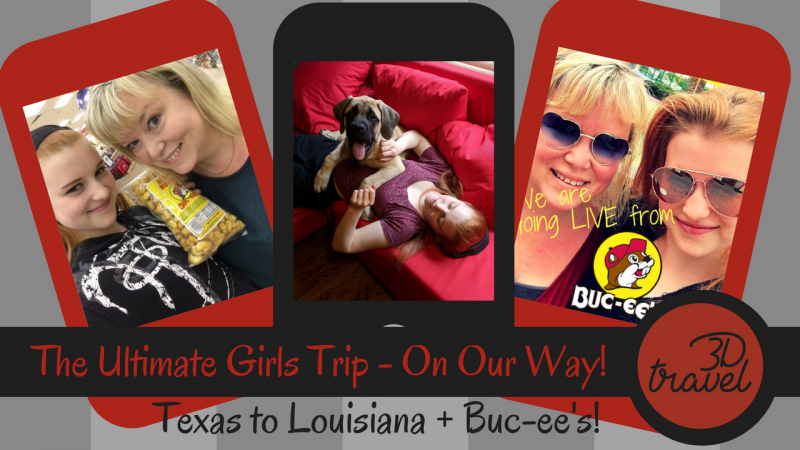 ​After months of planning, we took to the road and traveled from Texas to Louisiana, ready for the FUN!
​It's not often a mom gets a chance to spend three weeks with their 15 year old daughter on the road, and if the many comments around me are correct, many don't want to. But I absolutely did! Hannah & I were both excited for this chance to be "just girls" as we explored multiple states, Walt Disney World Resort, Universal Orlando Resort, sailed aboard a Disney Cruise & spent time with friends.
We left on May 1st for three weeks of fun!
We couldn't leave until we finished celebrating Hannah's oldest brother Joshua's, 20th birthday. We got up & made Buttermilk Biscuits, Country gravy, breakfast casserole and sausage for everyone. We left 3 happy men behind and hit the road.
Hannah's daddy is a firefighter and one of our boys plans to become a police officer, so when we hit Dallas traffic as part of a funeral processional for a recently fallen officer, it hit us hard. Tears streamed down our faces as we passed under and beside rows of police and fire apparatus, flags and men at attention. It was both precious and devastating to be a part of.
But once we got out of the Dallas area, we made good time. Hannah plugged Buc-ees into google maps and we made our first stop for Facebook live and Buc-ees Beaver Nuggets.
As we left, I received a phone call from my Doctor telling me they had found some issues with my recent blood tests, and there could be a problem with my heart, my blood sugar and my blood pressure. I stood there, holding my cherry sours and asked what I should do? "Go and pretend you didn't talk to us, yet. Just go and enjoy yourself."

So, we did.

We ended our evening at a hotel in Shreveport, Lousiana, making it a short but successful first day. In just 48 hours, we'd be sleeping in Florida! So much to come....
Comment for this post has been locked by admin.
By accepting you will be accessing a service provided by a third-party external to https://3dtravelcompany.com/