An Inside Look at all things 3D Travel
From the viewpoint of owner, Carol-Beth Scott
Pirate Ship Sailing in Venice, Italy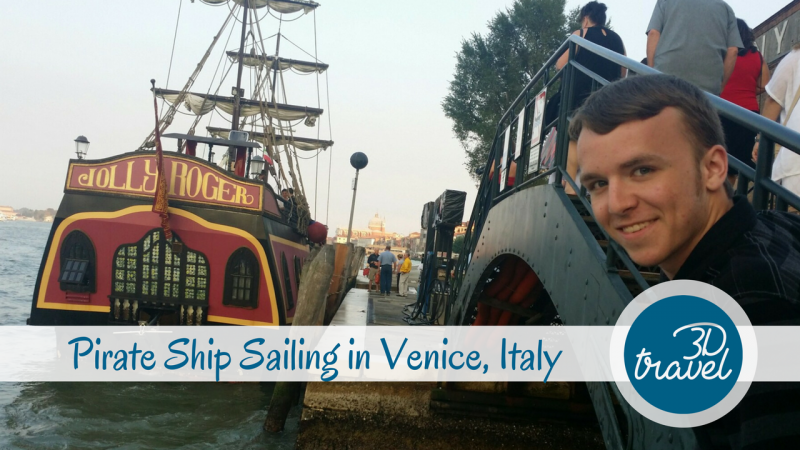 ​There are moments where you know you'll remember them forever.
Sailing aboard a Pirate Ship in Venice with my oldest child was definitely one of those moments!
​There have been incredible moments in this whole Healing + Disney + Entrepreneurship Journey. One of them came about because David and I asked Joshua where he wanted to go for a Senior Trip? We homeschool and I always loved the idea of a Senior Trip. Joshua chose Italy. And not only Italy - he chose Adventures by Disney. It took a series of events that only his prayers and God could have put together to make this happen. But it DID!
And every moment was incredible. We had a private tour of the Sistine Chapel and an underground tour of the Colosseum. But on the last day? The last day we boarded a PIRATE SHIP! And we sailed through the canals of Venice, Italy. Can you imagine anything better than living out that fantasy with your son?
When we were aboard, we sampled more wine. The whole trip Joshua enjoyed being able to participate in wine tastings and being treated like the responsible young man he has already become. And there was music and dancing and speeches and goodbyes. When we returned later that night, there were hugs and pictures on the dock. It was over. Our journey both aboard the Pirate ship and in Italy was over.
I"m married to a fireman. They give a lot and I'm so grateful for the stability, but they don't make much money. I tend to pour all the money I make from 3D back into improving 3D. God truly had to make this trip happen. And I'm telling you, if you ever get the chance to go on a miraculous trip like this with your kids, you absolutely need to do it. Of course, I'm telling you we'll book it for you. I'd love to book someone and know that "tonight they're stepping aboard the pirate ship!" I'd close my eyes and imagine their rapture at the entire experience. And then, just like now, I would cry a few tears while I remember what a special time it was with my boy.
My boy, Joshua.
Comment for this post has been locked by admin.
By accepting you will be accessing a service provided by a third-party external to https://3dtravelcompany.com/