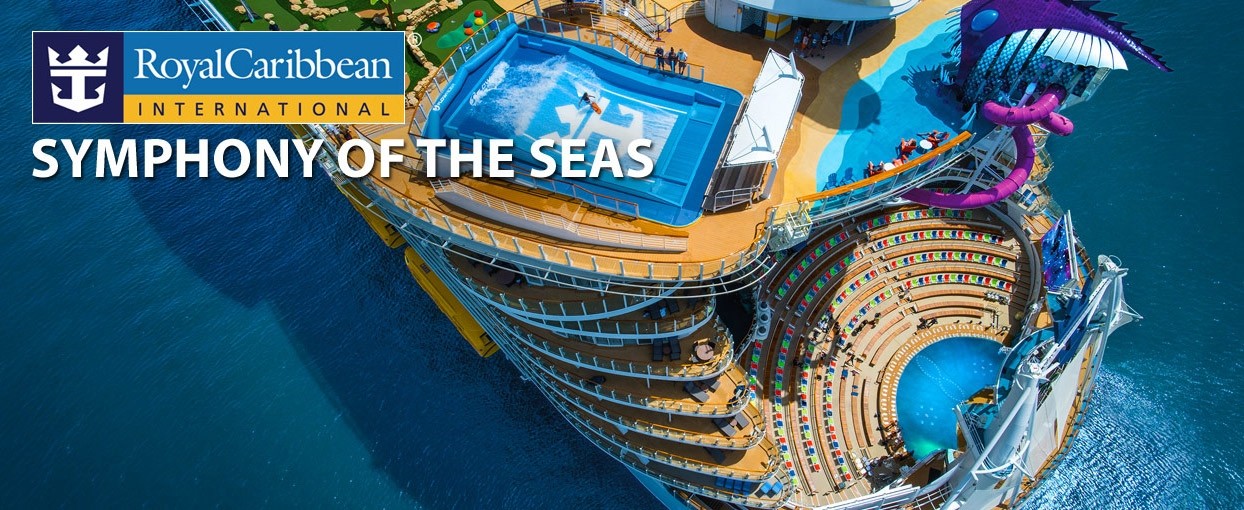 Royal Caribbean International's newest ship, Symphony of the Seas, is redefining cruising for your family. Get ready to be impressed and learn about the most epic vacation that you can have on the water!
Royal Caribbean International is redefining family and adventure travel with its newest ship, Symphony of the Seas. Bringing to life every family's vacation dreams, the ship is a playground of thrill and chill experiences carefully designed with guests of all ages in mind. Families can go head to head in a glow-in-the-dark laser tag adventure, take the plunge down the tallest slide at sea, or soak up some sun after getting drenched on the ship's epic waterslides and surf simulators, discovering exactly how Symphony of the Seas is the new sound of adventure for the whole family.
The Ultimate Family Suite is a two-level, 1,346-square-foot suite filled with awesome thrills offering more than enough room for the whole family – and friends – to come together and catch up on "me time." Imagination brings this suite to life with swoon-worthy features, whimsical color schemes and jaw-dropping wows.
Symphony of the Seas will introduce the new generation of Royal Caribbean's famed Boardwalk neighborhood, infused with new energy, interactive experiences and lively venues conceptualized for endless entertainment for all ages. Playmakers Sports Bar & Arcade will be the place to watch the "big game" from around the world across 30 big-screen TVs, ensuring everyone has the best seat in the house to cheer on their favorite team. Sugar Beach candy and ice-cream shop will bring a sugar high of sweet treats to adults and kids alike, enticing them with colorful candy-packed walls and tempting ice cream and toppings galore.
Royal Caribbean International continues to push the boundaries of what's possible in entertainment with the debut of cutting-edge productions on stage, in the air, underwater and on ice on board Symphony of the Seas. Headlining the playbill will be the all-new show 'Flight: Dare to Dream,' a one-of-a-kind journey through the past, present and future of air travel and space exploration that will make history as one of the most ambitious stage productions to date. Guests take off on a spectacular adventure through time, chronicling key milestones in aeronautics, beginning with the first leisure voyage to Mars and ending with a stunning homage to the WrightBrothers' first flight at Kitty Hawk.
Royal Caribbean crafted an adventure of the senses with the ultimate combination of dining experiences on board Symphony of the Seas. The world's largest cruise ship introduces new menus, flavors and venues, adding to an already diverse lineup of 22 restaurants throughout seven signature neighborhoods. Dining out has a whole new rhythm on board Symphony.
Comment for this post has been locked by admin.
By accepting you will be accessing a service provided by a third-party external to https://3dtravelcompany.com/