An Inside Look at all things 3D Travel
From the viewpoint of owner, Carol-Beth Scott
When, Why and How To Use A Walt Disney World Payment Plan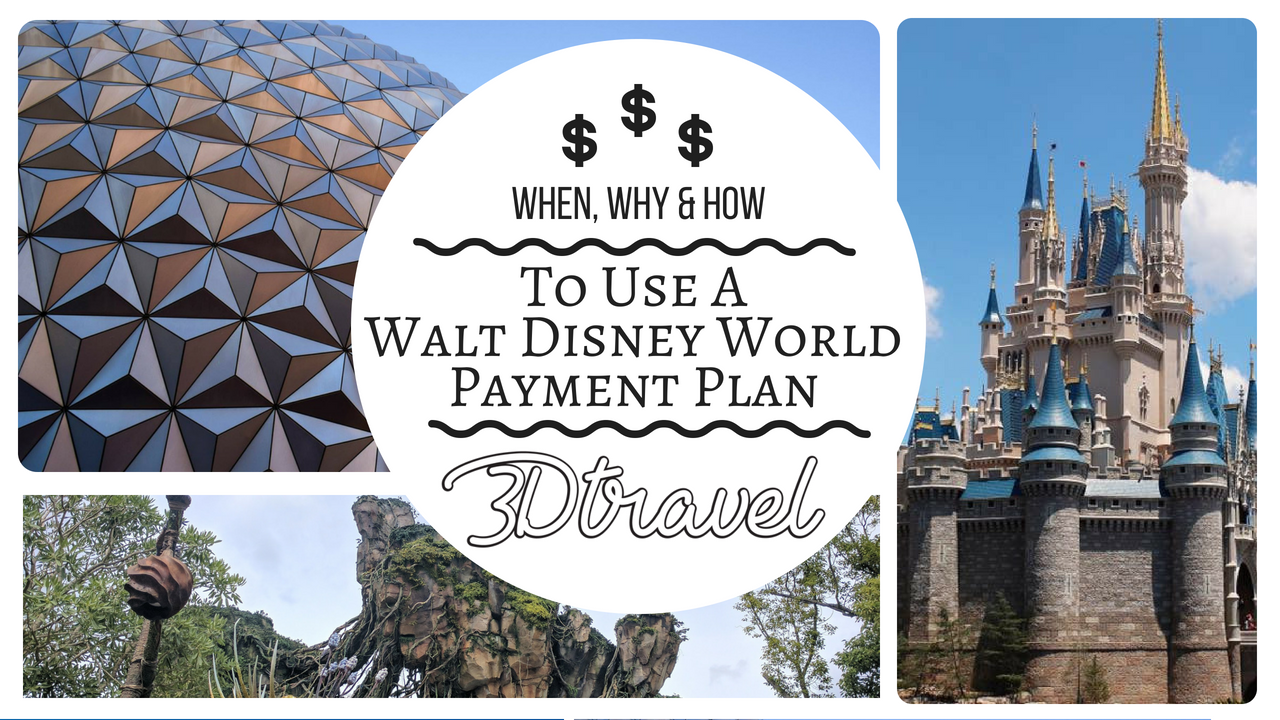 Visiting Walt Disney World Resort doesn't have to break your budget, when you have a monthly payment plan in place!


From the moment you've decided to visit the Most Magical Place on Earth, no matter who you are or what your budget is, you must begin with a price (begin with a price hyperlinked to WDW Quote Request Form). Often that price can be a shock to the system. But just like you can take an expensive vehicle and break it down into payments that fit your budget, you can take a Disney vacation and do the same thing. And I'm NOT talking about going into debt like you would for a car. There's no reason for that!

Any room on Disney property can be held with a $200.00 deposit, which means your plan can begin as soon as you have a vacation plan that fits your family and $200.00 to put down. Depending on the dates you'll visit and the demand for rooms by other travelers, your 3D Travel Agent may be applying a special offer to your booking at some point, but I suggest you plan as if you're going to pay full price. If you get that coveted email or call from your agent, after they've saved you money, you can consider that bonus cash.

Once your $200 deposit is down, it's time to build a plan for your success. Final payments are due 30 days before you travel, but you'll want to allow for Disney technical issues and bank technical issue by giving yourself a couple of extra weeks, just in case. So, if your final payment is due on May 1st for a June 1st arrival date, plan to have all your "payments" made by April 15th or 16th, giving you a couple of weeks to finalize payment through your agent, payable to Disney World.

Why Target?
By using your Target Red Card and purchasing the $50.00 gift cards, you'll save 5% with each purchase.
Why Gift Cards?
Taking a set amount of money and investing it in your Disney vacation by purchasing gift cards will get it out of your account and ready to spend on your trip. I don't know about you, but if money is in our regular checking account, we tend to spend it. Getting it out of the account makes that impossible. Not only that, if you need to postpone or change your vacation in any way, you don't have to wait for the money to return to your account.
Important to Remember:
​When you've gotten to your Gift Card Goal, you'll be combining your gift cards via Disney's online service so when you're invoiced by your agent, you'll only need to submit one authorization number.
NEVER throw out your original gift cards, even after you've combined them and applied your payment. If you ever need to get a refund, they'll go right back on your cards.
​After submitting a quote request, on January 1st, I work with my 3D Travel Agent and settle on a vacation for $5200.00 that begins on December 30th.

I apply my $200.00 deposit and begin planning with my agent's help by January 15th.

After dividing up the amount I'll owe, I know I need to make a plan to purchase $500 of gift cards each month, for the 10 months leading up to my trip.
I purchase $500 worth of Target Gift Cards each month on the 15th: February, March, April, May, June, July, August, September, October & November. I keep all the receipts and my gift cards in a safe location.
My final payment is due on December 1st, which is why I plan to make my final gift card purchase of $500.00 by November 15th, 2 weeks prior to when it's due.

I combine all my gift card purchases on Disney's Gift Card Site if I haven't been doing it each month.

I submit payment authorization to my 3D Travel Agent & safely store my Gift Cards in the same safe location I've been keeping them in.

When the amount of gift cards doesn't come out even (because only pretend reservations come out even) then I use the extra gift card balance for souvenirs and incidentals during our trip.



Want to plan ahead? Start purchahing your gift cards now for future trips!
Absolutely! Deposits for other Disney vacations vary, so you'll need to chat with your 3D Agent after requesting a quote for Disney Cruise Line or Disneyland Resort, and you'll want to plot out the final payment according to the terms and conditions of your particular vacation, but the principle and the Disney Gift Cards work exactly the same!
---
Comment for this post has been locked by admin.
By accepting you will be accessing a service provided by a third-party external to https://3dtravelcompany.com/