The Ultimate Disney Cruise Line Packing List for Babies and Toddlers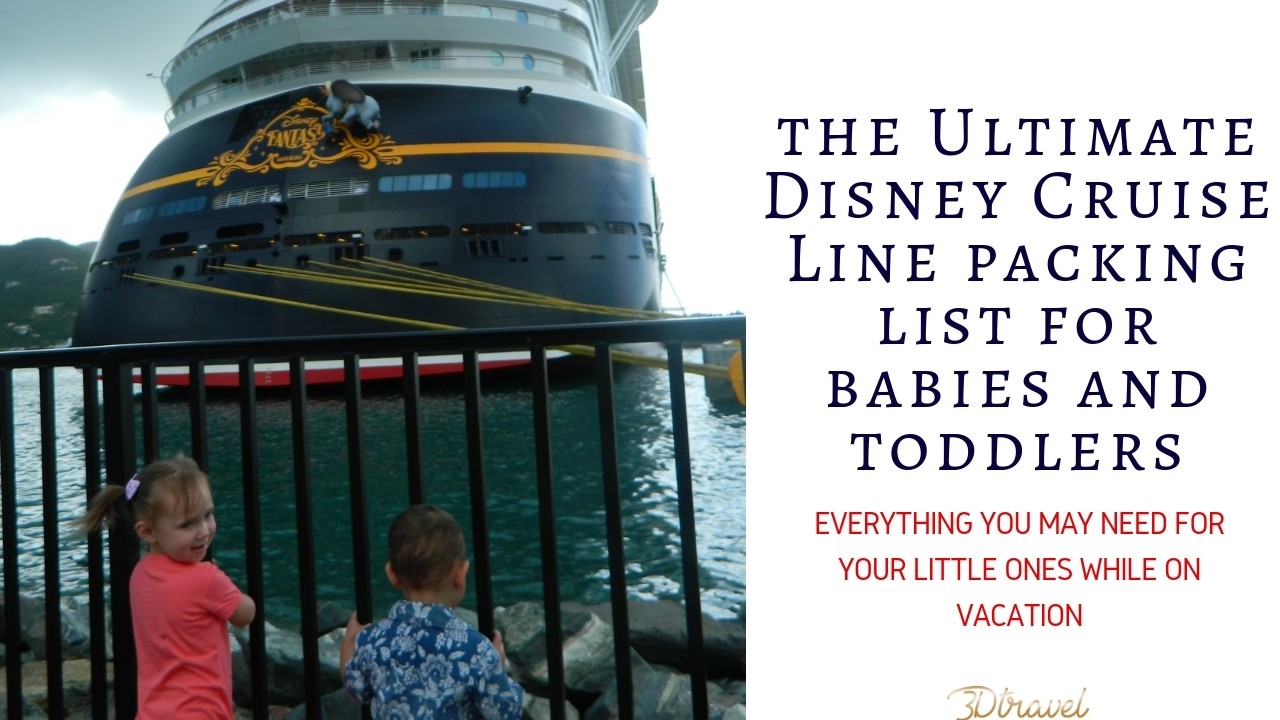 ​Your family is about to take the ultimate family vacation on the Disney Cruise Line. But now you need to figure out what to bring for the youngest members of your travel party. After taking our first cruise with Kat and Scott, 2 and 1 at the time, we came up with the ultimate packing list to make your cruise a breeze!
My trick is to label gallon size zip-lock bags with the date they will wear each outfit (I also like to put what is happening that day-at sea, port etc.). Each bag gets everything, including socks and underwear, so that each morning you can just get ready. I did the same thing with our evening wear.
For spare outfits, I pack 1 spare for every 2 days of the trip.
1 outfit per day
3-6 spare outfits
1-2 swimsuits
2-3 pairs of shoes
hat
light sweater
pajamas
I based this on a seven day cruise.
Pirate night is a blast, and you will want to make sure you have an outfit for your little one!
Both formal and semi-formal nights are completely optional for your youngest travelers. We personally like to get the kids dressed up with us because it makes for a great family picture. But you can easily let your little ones dress cruise casual for every night of your trip.
​1 pirate costume
1 formal outfit
1-2 semi-formal outfits
2-3 cruise casual outfits
Disney Cruise Line does a great job of having many everyday items stocked on the ships. However it is much more convenient to bring what your child already uses. This can help avoid things like skin reactions, or frantically searching for Tylenol if baby is teething.
baby shampoo/body wash
toothbrush
baby toothpaste
baby sunscreen
hair brush
hair accessories
all medications
​This is the basic gear you may need for your little ones.
It's all about personal preference on if you want to bring a stroller. We decided not to bring one, since Kat and Scott are both walking. Instead, we just used their backpack leashes while we were in port. If you do decide to bring one, I suggest a very lightweight or umbrella style stroller. This will save space in your stateroom.
pacifiers
pacifier clip
2-3 toys
1 blanket
sturdy bag
lightweight stroller
baby carrier
backpack leash
small sponge and dish soap (to wash bottles)
Make sure you bring all of these items.
I suggest recording how many diapers your little one uses daily over the course of a week, and then add at least 10 to that-its better to have spares than to run out and have to keep buying them on the ship.
diapers
swim diapers
wipes
rash cream
changing pad
​You will want to bring enough baby food and snacks for your little one to last the entire trip. Just like with clothing, always pack a little more than you think you will need-you don't want to run out halfway through the trip.
If your little one eats rice cereal or oatmeal, you can grab a bowl at Cabanas throughout the day.
​bottles/sippy cups
bibs
burp cloths
baby food
baby utensils
And that concludes our packing list for babies and toddlers! These are the essentials you will need to make the most of your Disney Cruise Line vacation! Now, I always recommend checking the cruise line's website before you set sail, as the list of banned items is always subject to change. And if you every have a worry or concern, just check with your 3D Travel agent; they'll be able to help you answer any questions.
Comment for this post has been locked by admin.
By accepting you will be accessing a service provided by a third-party external to https://3dtravelcompany.com/