Our Epic Walt Disney World Date Day!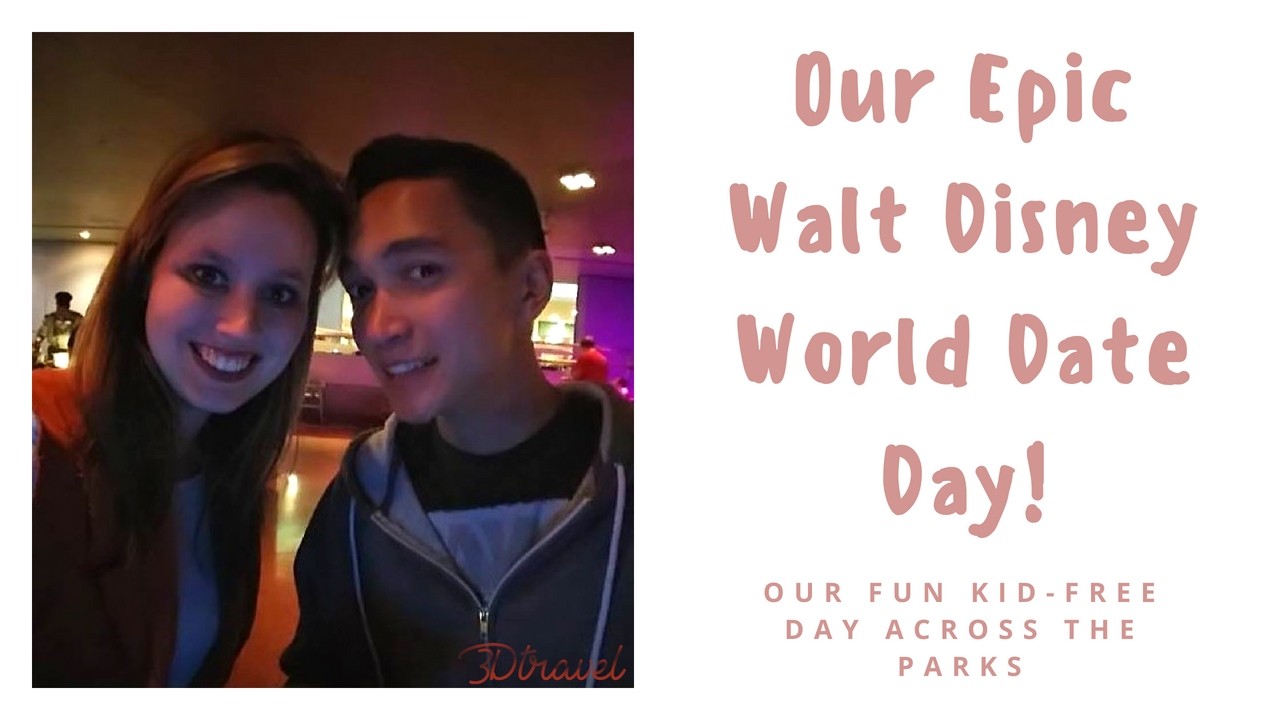 When the grandparents come on vacation, the parents get a day to themselves! While my husband Dakota was home on mid-tour during his year-length deployment in the middle-east, we took a vacation to Walt Disney World and brought his parents with us. This allowed me to plan a surprise date day for my husband, and it was a day full of fun, laughs, and some much needed quality time for us both.
A Morning at Hollywood Studios
Our morning started bright and early, and we started our day with a quick breakfast at Sanaa, the restaurant in our hotel at Animal Kingdom Kidani Village. We got our meal to-go, and ate outside on the rocking chairs overlooking the savanna. From there we bused over to Hollywood studios. We arrived 45 minutes before park opening, and prepared for rope drop. We were at the front of the line, and got to play Disney trivia with the cast members. When the rope dropped and the park officially opened, we followed cast members down sunset boulevard, and entered the Tower of Terror. We were the first elevator of the day, and even skipped the opening sequence and went straight to our ride vehicle. After our terror-filled drop, we walked next door to the Rockin' Roller Coaster featuring Aerosmith. After a short 15 minute wait, we boarded our stretch limo and zoomed through the streets of LA. In less than 20 minutes we had gone on two of the biggest rides in Hollywood Studios.
Following the Rockin' Roller Coaster, we went to one of my personal favorites, Star Tours! We had a great conversation with the cast members about my Porg backpack and rebel inspired outfit. Once on board, I checked an item off my bucket list when it was announced that I was the Rebel spy! Of course, I then had to go to the Star Wars Launch Bay to brag about my new status. We stopped by to say hello to our favorite Wookie (Chewbacca loved my Porg-and the blue streaks in my hair!). Then, it was off to see Kylo Ren...he did not approve of my rebel status, and warned Dakota to keep an eye on me. And just like that, our 2 hours at Hollywood Studios came to an end.
From Hollywood Studios, we took a boat to the Boardwalk Resort, and from there we hoped on a bus to Disney Springs. Once we arrived, Dakota and I headed to Splitsville Luxury Lanes, where I had reserved a lane for us to bowl and dine. We each ordered a drink, loaded fries for an appetizer, and I had sushi while Dakota ordered a burger. We had such a great time bowling, which was something we had never done together. We played two games- I sadly lost both- and overly stuffed ourselves with food. Then it was off to our final location!
A Perfect Ending at Magic Kingdom
After Disney Springs, we made our way to Magic Kingdom, where we had three fast passes waiting. We rode Space Mountain, Big Thunder Mountain Railroad, and then the Seven Dwarves Mine Train. All three rides were a blast, and it was great being able to ride together. We then rode some of our other favorites, like the Haunted Mansion and Buzz Lightyear's Space Ranger spin. After our rides, it was time for our final event of the evening; the Happily Ever After Fireworks Dessert Party at the Tomorrowland Terrace.
Once we checked in, Dakota and I were given a tour of all the food displays, and escorted to our table and given our wristbands. Then we had unlimited access to the desserts and ice cream sundae making station. There was also a drink station and a cheese and fruit station as well. Our table was along the terrace railing, with beautiful views of the castle and into Tomorrowland. We enjoyed plenty of desserts and sparkling cider, and were given bags of treats to take home after the show. And once the fireworks started, we had some of the best seats in the park. This is by far my favorite night time show on property, and it was the perfect way to end our wonderful date.
We were so fortunate to be able to have an entire day to our selves at the Most Magical place on Earth. We had an amazing day, and loved being able to spend some quality time together, Disney style. How would you spend an epic Disney date day?
Comment for this post has been locked by admin.
By accepting you will be accessing a service provided by a third-party external to https://3dtravelcompany.com/